What I *should* have done this morning was take a photo of the sock I finished last night. But I was lazy and didn't. Also, the pair will be finished pretty soon, stockinette and a quick knit cause it's in such a small size. I seem to be racing through the socks this month and am wondering why they take so much longer normally. I mean, yeah I do usally work on 8 things at once so that could explain it. Also, with all this plain knitting going on, I am tempted to do something far more complicated next, once all the October sock commitments are done - and the seashell socks aren't actually plain. I'm going to try the
pomatomous
in
Socks that Rock
Lemongrass at some point.
So instead, here are some more photos of my knitting area. The top one is the before shot when I just set up the shelves. It's probably where I'd like to believe I can get back to, one day. I honestly believe that I am finishing up all these random projects and not progressively creating more works in progress and I'm thinking that may not actually be true. Here is the area after cleaning it up and rationalising projects this week.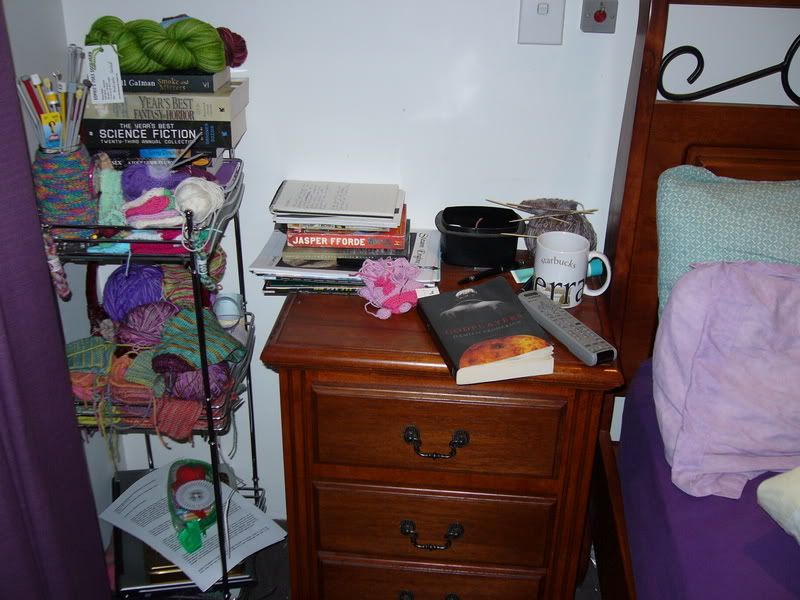 That's the book I was reading and the coffee I was currently drinking so imagine them not there all the time! I guess note the book creep which has spread from the bedside to the knitting storage area.
A close up shows some of my more long term works in progress. The top shelf has random booties in random states of completion - some just requiring two more wheels to be sewn onto rollerskate booties for example.
Time to complete project, 10 minutes.
Time spent procrastinating on completing project, so far about 1 and a half months.
The second shelf has the bf's first sock in the pair to be finished for Socktoberfest (front right). Next to the sock are a variety of garter squares (15 stitches, 14 garter rows) made from the lefover yarn from the hot water bottle covers. I wasn't actually convinced they all actually "went together". I have even contemplated buying more yarn to make more covers (only sold 2 so far) to have more leftovers to finish this blanket. I am sewing them into nine patche squares. Then I wasn't sure how to join the nine patch squares together. I've been thinking about buying a black or very dark navy to knit borders and so on but I think I will just random sew them together in true crazy square style and be done with it. In fact I'm thinking of making this blanket for the boat so the care put in so far for how it should be pieced is probably already far too much. Plus we are going to holiday on the boat not this weekend but next so I should probably get a move on.
Behind the sock and the pile o squares is potentially the rest of the Socktoberfest commitment. I don't know cause I've been too scared to venture in that far. I may or may not have randomly cast on socks and then tossed them in that basket. Time will tell as I complete the three pairs currently in sight with about half the month left to go and a good strong will not to cast on more socks till all those already cast on are finished. Hope I make it .......