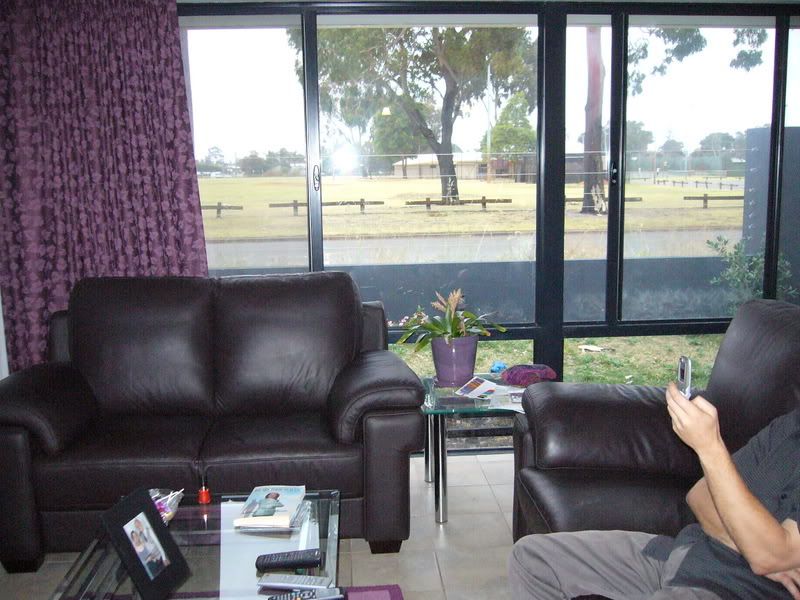 Here is the view from my kitchen, the bf on his phone there down the front. We look straight out over the park and in the distance you can see the baseball rooms where the police got called to on Saturday night but from what I could tell, nothing much doing.
I have been doing a lot of knitting these past few days but didn't take any photos. To be honest, I'm avoiding the truth about Sarcelle - which is that I am going to have to start over. I think I will do so tonight.
Let's see... I pieced another nine patch together, leaving me two to go. I finished a watermelon sock and turned the heel on the Seashell sock. I also cast on the second Rainforest Jasper sock for the bf. And resisted urges to cast on anything else.
I also finally decided to knit all the tiny weenie balls of sock yarn into a free form long cabin. I knit socks top down. I then knit a pair of newborn socks if possible from the remainder. Then a third if there is yarn or just the one if not enough for the pair. These I souvenir in that box in the previous post as sock yarns I have knit. There is usually a tiny ball left over that I can't throw out. So I have now knit them into a logcabin, the sizes of each rectangle determined only by the amount of sock yarn in the ball. It will either be a work of art or the dog's new blanket. Too early to tell which.