I feel like I can't post without photos. It's weird.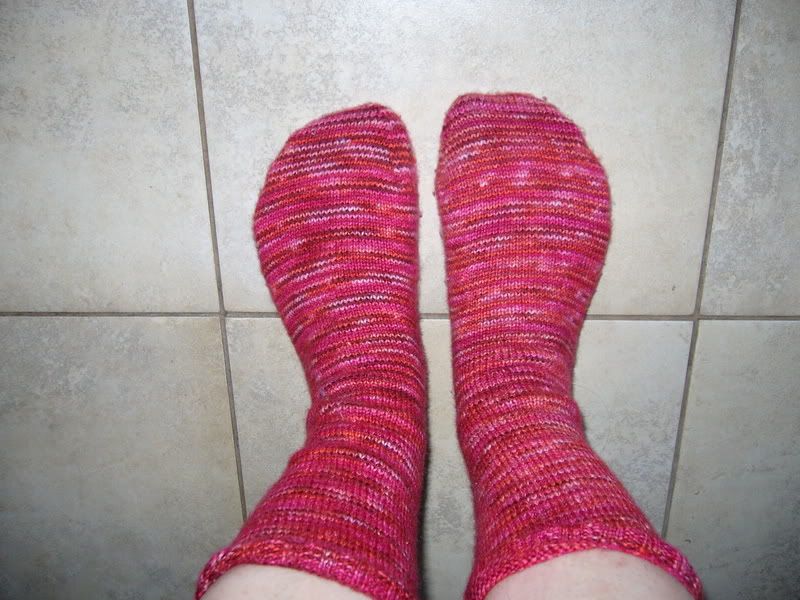 This pair of socks was the second pair I made this year (and at all) - I've made 17 pairs this year and am trying to relocate them all to put together a gallery. Made with Sundara yarn in Fruit Punch. I must admit that I was initially disappointed because the yarn looked prettier in the skein (but that way lies madness). However these are truly comfy socks and they wash really well. After conversion and with postage, these socks cost nearly AUD$50.
A recent FO from Soctoberfest. The pair of socks using the Rainforest Jasper from Socks that Rock, Rocking Sock Club. Cuff, heel and toe done in Jasper. This was what the bf did with them after being presented with the pair. Do you need a better shot than this? Admittedly, it is starting to get hot here and socks are far from people's minds. He will love them in winter, I know.
Um, yes. This looks how it feels. There are actually two pairs of finished socks there waiting to be photographed. And an array of works in progress. It's all a mess. Plain socks and a scarf are good to work on whilst reading online in bed. The Sarcelle is suffering because of that.