I woke up this morning with a very sore left wrist. So sore in fact that I couldn't do my bra strap up! Just my left wrist and I coudn't bend it backwards nor forwards. Typing at work was painful. I didn't even do any knitting last night so surely it's not RSI. Although I did notice the same hand was cramping a bit the night before when I was knitting.
Still... it wasn't until half an hour into this evening's knitting that I realised I'd been knitting a sock - so at least knitting is still on!! And I spose then that it's not knitting-related RSI.
Here is the back of the Christening jacket done. I ended up scanning the internet widely for more of this yarn to absolutely no avail. It's Panda Baby Lustre, 4 ply in white. Noone in Australia with an online store seems to currently have it nor ebay. I think I can order some more from my LYS (via online) but will have to wait 2 weeks for it to come in and I'm not sure they have processed my order yet. So no pressure....
I have one more 50 g ball and I think that should do the two front panels. I hope. Cross your fingers for me.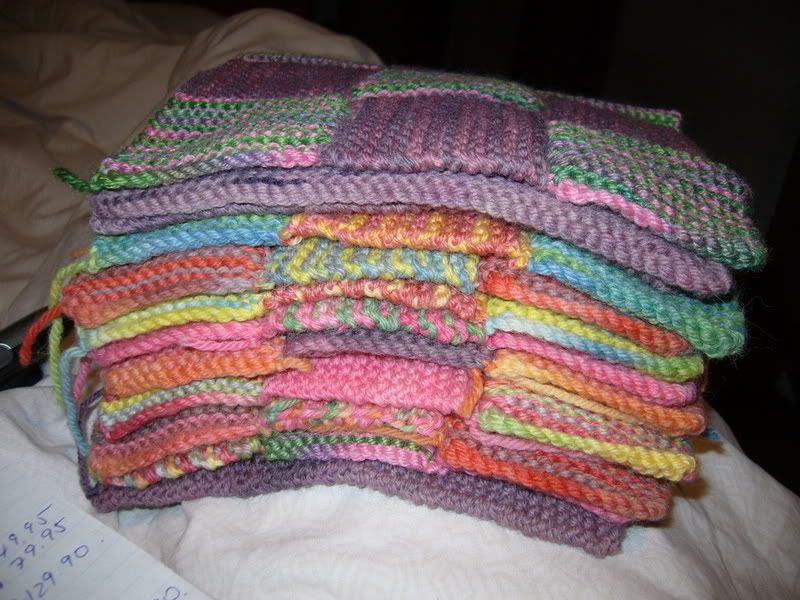 And here is the stack of 9 patch squares for my 9 Patch Afghan. I made the stunning discovery last night that I
still
do not have enough squares. I never seem to with this project. It's made from the scraps of all the hot water bottle covers I've made. I have some blue yarn to knit up into squares that I think will mean I have 2 more large squares to add to this pile. There are 12 in this pile. So then I will have 14 - what the hell do you do with that? I need 2 more squares .... again...